---
Here are my PGP Keys. I use PGP Encryption on my personal system. I welcome PGP encrypted mail at
Henry at schmitt.org
My work: Internet Consultant at Cedar Services Consulting
My volunteer project: The Family Alliance
My family: Schmitt Family Home Page.
A view from above my house.
Note: This link is from Switzerland, and generates a large (320x320) graphic in real-time; so it's slow! Be patient, it's worth the wait.
I'm an alumnus of Pi Lambda Phi's Beta Zeta Chapter at CMU.
---
Dr. Seuss's Philosophy of the Internet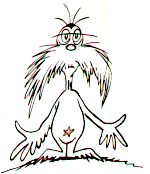 From there to here,
from here to there,
funny things
are everywhere
---

Internet Censorship
The Microsoft Menace
---
---
---
---
---
---
If you'd like to see them, here's some pictures of my son Gregory.
Or how about some baby pictures of his little brother Jason.
---